The Buick Monthly Event!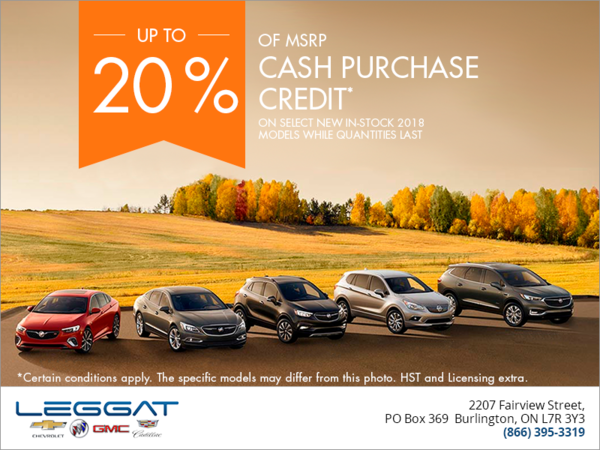 Take advantage of the Buick Monthly Event!
Get up to 20% of MSRP cash purchase credit on select new in-stock 2018 models while quantities last.
HST + licensing extra.
Conditions may apply. This offer ends on October 31st, 2018.
Hurry up and book your test drive today!
Fuel-consumption ratings based on GM testing in accordance with new Government of Canada approved test methods. Refer to vehicles.nrcan.gc.ca for details. Your actual fuel consumption may vary.
Available manufacturer to dealer delivery credit (tax exclusive). This credit is available to cash customers only; customers who choose to finance or lease their vehicles will forego some or all of these credits which will result in a higher effective cost of credit on their transaction. Includes GM Card Application Bonus on select vehicles (details).
Price includes freight, air conditioning tax and dealer fees. Retail sales taxes, other applicable taxes, or license fees are not included. Dealers are free to set individual prices. A dealer may agree to pool inventory with other dealers to enhance availability of vehicles. See additional information on vehicle pricing. U.S. model shown. Image may not show the configurable options selected or available on the vehicle. Some colour options are available at extra cost and may only be available on select trims.
Only available in the U.S. and Canada in U.S. English. Model year 2011 and newer vehicles are supported. Some commands are not supported on some vehicles. Amazon, Alexa and all related logos are trademarks of Amazon.com Inc. or its affiliates.